UK Pension Lump Sum Tax Issues
Warning: Brits May Pay Tax at Highest Rates if They Cash in Their Pensions
Technical issues regarding tax codes mean that Brits who want to take a cash lump sum from their pension after April 6th may have to pay their highest rates of tax on any cash lump sums they take from their pension. They may then have to wait months or a year to claim the tax back.
Individuals will need to apply for a "cumulative tax code" to avoid huge taxes which will be automatically be applied by your pension company who would enact an "emergency tax code"
Many will simply pay the higher taxes and forget to claim the tax back.
What is the Emergency Tax Code?
An emergency tax code is applied automatically by your pension provider if they don't receive notification from you.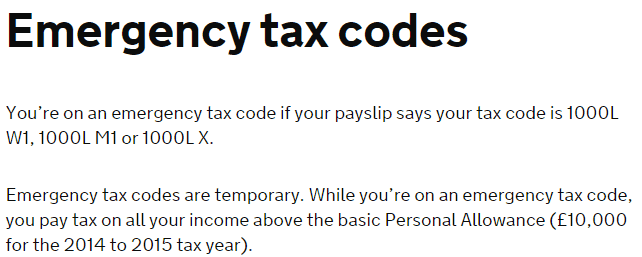 In an article from the FT, Claire Trott, head of technical support at Talbot and Muir, warned that for pensioners who aren't already getting an income from their pension provider, an emergency tax code will be issued, which will assume the amount paid is a newly recurring monthly installment and tax it accordingly.
This could see taxes of as much as 45% applied to any amount above £12,500, with 40% likely to kick in on amounts of over £3,500. These amounts could even be lower if the individual is already receiving state pension.
This could lead to many pensioners paying their highest rate of tax on any cash lump sums they take out and will have to remember to claim that tax back at the end of the year.
What is a Cumulative Tax Code?
A cumulative tax code allows the pension provider to make the necessary adjustments, so that you don't pay too much tax.
A pension member just needs to obtain a cumulative tax code from the Inland Revenue. This could be a nil tax code where members have other sources of income that use their allowance.
Ms Trott added that any overpayment may not be able to be reclaimed until the end of the tax year, as "if the fund is not extinguished there is no P45 to be used to reclaim the tax mid-year".
Here is a summary of the UK tax codes.
You can click here to Tell HMRC Your Tax Code is Wrong.
How British Expats Can Avoid Tax on Lump Sums Altogether
1 in 10 Brits now live abroad. If you retire overseas, you can transfer your pension to a QROPS to avoid all UK taxes on your pension as long as you remain living abroad permanently.
If you want to take a large cash lump sum and avoid the tax, consider retiring to Spain, Portugal or further afield like Thailand or Latin America to make your money last longer.
UK Pension Lump Sum Tax Issues - Avoid Paying Too Much
by
Richard Malpass
https://plus.google.com/u/0/109576387463330539887