QROPS Hong Kong 2016
QROPS Hong Kong is now open for business again. QROPS were shut down before for flaunting HMRC rules, but since the loopholes have been closed, QROPS Hong Kong have upped their game and have ironed out any previous flaws in order to become a leading jurisdiction in Asia for QROPS pension transfers. See some of our articles from April last year here: Hong Kong QROPS Clampdown. For those that have been waiting, QROPS Hong Kong are up and running again.
A Hong Kong QROPS is now most suitable if you are retiring to Hong Kong or planning to live in Hong Kong for five years after retirement. This avoids the new 25% "exit tax" that the Inland Revenue are imposing on HK QROPS if you are not resident in Hong Kong. This is a new rule that Philip Hammond brought into the Finance Bill 2017. A HK QROPS may still be relevant for other high income tax countries such as the Netherlands who have up to 52% income tax rate. A HK QROPS has zero income tax thanks to the HK-Netherlands Double Taxation Agreement which gives the taxation rights to Hong Kong.
If you are moving to the EU, you are now much better off transferring your pension to a QROPS in Malta. For expats in Asia and other areas of the world, you may now be better off in a UK SIPP to avoid the exit tax.
Here you can read the latest rules for QROPS in Hong Kong for 2017 including the new 25% exit tax rule.
Below, you can read the Hong Kong rules as they were in 2016, but this is no longer relevant. I am just leaving the post for prosperity purposes.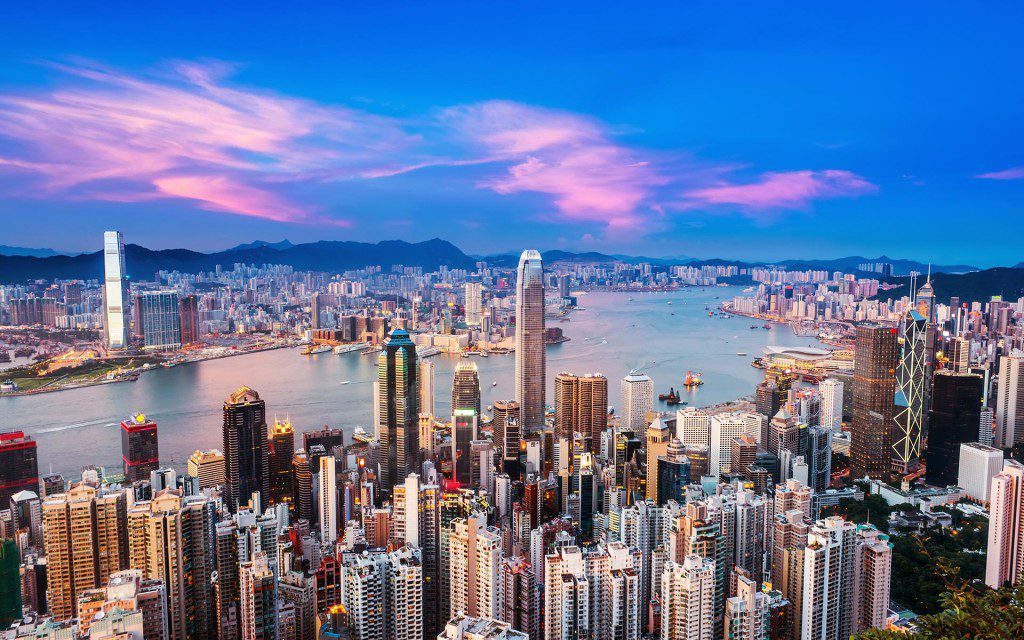 QROPS Hong Kong | Benefits of Transferring a UK Pension to Hong Kong
So, why would you transfer your pension to Hong Kong, when you could leave your pension in the UK?
Hong Kong has a DTA with the UK which means if you ever return to the UK, your pension would be taxed in Hong Kong. Hong Kong has a zero income tax rate
Hong Kong has the same full pension flexibility as the UK, but be careful as only income payments would be tax free in Hong Kong. Any extra drawdown above the initial tax-free 25% may be taxed as capital in your country of retirement
Your beneficiaries would pay a 45% tax upon death for any lump sum received in the UK if you die after 75
In the UK, your pension may face up to 45% income tax
Your investment options are more limited and restrictive in the UK and normally only in GBP
In the UK, your pension remains in GBP and is taxed at UK income tax rates.
A QROPS in Hong Kong means zero income tax if you retire in the following countries thanks to the Double Taxation Agreement giving the income taxation rights to Hong Kong, where it is currently charged at a zero rate of income tax:Austria, Belgium, Brunei, Canada, China, Czechoslovakia, France, Guernsey, Hungary, Indonesia, Ireland, Jersey, Kuwait, Lichtenstein, Luxembourg, Malaysia, Malta, Mexico, Netherlands, Qatar, South Africa, South Korea, Switzerland, Thailand, UAE and Vietnam
Click here to learn more about the Double Taxation Treaties for QROPS in Hong Kong.
What are the benefits of transferring a pension to a QROPS in Hong Kong for a British expat?
You can take a 25% tax-free cash lump sum at retirement at 55.
You can take up to 120% of GAD rates. So, let's assume your pension pot is £200,000 and for argument's sake, your income at drawdown is 5% or £10,000 per year. Under a QROPS, this could increase to £12,000 per year. You could also opt for a lower pension in order to try to accumulate a larger pension pot for later in life. This is our recommendation as most people underestimate how long they will live for.
You can choose the currency of your pension. You may think it is better to hold USD or EUR or keep it in GBP.
You avoid UK income taxes and tax on death. Your pension would be paid gross in Hong Kong where there is no income tax on your pension income.
Income tax on a Hong Kong QROPS would depend on the country where you decide to take benefits in retirement and the Double Taxation Treaty they have with Hong Kong
QROPS based in Hong Kong offer the same flexible tax and investment options as thousands of others QROPS around the world, except for residents in Asia and many other parts of the world, it may have some additional benefits. One of the benefits of using a Hong Kong QROPS is that Hong Kong has a range of Double Taxation Treaties with countries in Asia that other QROPS may not have.
Hong Kong QROPS are an option for people residing in countries that do not have a Double Taxation Agreement with Malta.
For example, Thailand and Hong Kong have a Double Taxation Agreement (DTA) whereas Thailand and Malta do not. This means that a QROPS Hong Kong gives the taxation rights to Hong Kong, so if you retire in Thailand, you will pay zero income tax on your pension as their is no income tax in Hong Kong on your pension. However, in Malta, for example, there is no DTA between Malta and Thailand, meaning your pension will face up to 35% income tax in Malta.
Of course, there are other factors such as the cost of the QROPS in each jurisdiction and the quality of the trustees themselves.
Choosing your QROPS requires an experienced offshore financial adviser and for many UK pension schemes it may not be worth transferring at all, depending on the benefits you are currently getting. For British Expats in Hong Kong, it is worth getting QROPS Hong Kong advice and exploring your options, especially when it comes to estate planning, so that your family are set up should anything happen to you.
For more information and to ask about the latest QROPS Hong Kong fees, please email us at info@qropsspecialists.com as the industry moves quickly and prices are always changing.
QROPS Hong Kong 2016 | Transferring a Pension to Hong Kong
by
Richard Malpass
https://plus.google.com/u/0/109576387463330539887