British Expats in South Africa Are About to Face a Higher Income Tax Rate of 45%
South Africa finance minister Pravin Gordhan has announced a new top income tax bracket of 45% in his 2017 Budget Speech for South Africa that will be sure to effect most British expats in South Africa as well as South Africans returning from working in the UK.
He has also raised the top effective Capital Gains Tax rate on trusts, including offshore trusts to 26% for 2017/18. The new taxes are expected to affect 100,000 residents in South Africa including British expats in South Africa.
Two new laws in South Africa and the UK will also affect the position. The UK Finance Bill means you now need to transfer your pension to your country of tax residence if outside the EEA, otherwise there is a 25% exit tax. This means if you transfer a UK pension to Hong Kong, you will now pay a 25% exit tax as a South African resident.
South Africa is currently facing the perfect storm of low commodity prices, slow global demand and the worst drought South Africa has had in a century which has put the government under pressure to raise taxes.
95% of South Africa's assets are owned by the top 10% of the population and after a report by the Davis Tax Committee (DTC) last year which looked into monitoring the tax system in South Africa, the government has set out to tax the wealthy and concentrate on closing tax loopholes. In particular, they asked the government to look into the taxation of offshore retirement funds.
Fortunately, there are solutions for expats in South Africa to reduce their tax burden. British expats in South Africa and South Africans who have worked in the UK who have built up a significant pension there can look into transferring their UK pensions to a Hong Kong Occupational Retirement Scheme (ORS) which is qualified as a Recognised Overseas Pension Scheme (ROPS, formerly QROPS).
You can read more about pension transfers to South Africa here.
Expats from other countries living in South Africa can also look into setting up a Hong Kong ORS for tax efficiency. Hong Kong has Double Taxation Agreements with many countries around the world and some of the agreements, such as the Hong Kong-South Africa Double Taxation Agreement gives the pension taxation rights to Hong Kong even if you are resident in South Africa. However, you should also check with your local tax attorney.
British expats can use both QROPS and QNUPS for tax & pension planning. Both may be useful for lowering tax on income, growth and death. They are also useful for currency & investment planning.
New Tax Rates in South Africa
New marginal personal income tax rate in South Africa is 45% for those with taxable incomes above R1.5m. It is expected to raise tax collection revenue to between R3bn – R5bn
Tax free savings account: annual allowance increases to R33,000
Capital Gains Tax (CGT) for individuals increases to 18%
Effective CGT on trusts jumps to 36% (double the tax rate for individuals)
Effective corporate tax rate remains the same at 22.4%
Dividend withholding tax rate to be increased from 15% to 20%
Sugar tax: a 330ml coca-cola could cost 77c more
39c per litre increase in the fuel taxes. Since 2014, tax on petrol has risen from 27% to 36% of the pump price; and for diesel from 28% to 45%.
Increased excise duties for alcohol and tobacco of between 6% and 10%
It is important to note that the effective rate of capital gains tax (CGT) on the disposal of a capital asset held in trust will increase to 36%, but the maximum effective rate of CGT on an individual's assets will only be 18%. So, they are clearly targeting expats who have tried to hide their wealth offshore, some who have done so for very legitimate reasons.
New Income Tax Table for South Africa 2017/18
[table "" not found /]

Tax on Retirement Lump Sum Benefits in South Africa for 2017/18
[table "" not found /]

Tax on Trusts (other than special trusts) for 2017/18
[table "" not found /]


*Please note that a Hong Kong ORS under a QROPS or QNUPS would be considered an offshore pension scheme not a trust and is covered under the HK-SA DTA which gives the taxation rights for pensions to Hong Kong. So, British expats can transfer their existing pensions to a QROPS in HK or set up any new pensions under a QNUPS in Hong Kong to protect their assets.

Special trusts are taxed at the rates applicable to individuals. A special trust is one created solely for the benefit of a person affected by a mental illness or serious physical disability which prevents that person from earning sufficient income to maintain himself, or a testamentary trust established solely for the benefit of minor children who are related to the deceased. Special trusts are only taxed at the individual CGT rate (18% for 2018). You can also set up a "special trust" for anyone under the age of 21, if set up in your will. This can be anyone related including grandchildren or nephews. You can read more here on special trusts in South Africa or contact us for an opinion.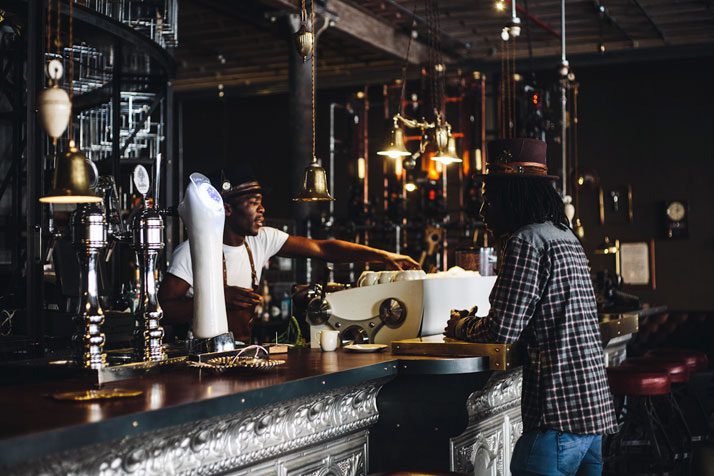 Tax Guidance for British Expats in South Africa
British expats in South Africa can protect their assets with smart financial planning. You can move existing pensions to a QROPS in Hong Kong which will give the taxation rights to Hong Kong. Hong Kong will tax that pension at zero. Any new monies which are to be used for retirement can be funneled into a QNUPS which protects your pension from inheritance tax and income tax in South Africa.
QROPS Hong Kong – Now a 25% exit tax for residents in South Africa upon transfer to HK. A QROPS is for transfers of existing UK pension schemes; there is no tax in South Africa or HK on pension income in retirement; also no tax on growth or death.
QNUPS Hong Kong – A QNUPS if for any other monies, shares, mutual funds, etc. Protects from capital gains tax, no income tax in South Africa at retirement and no tax on death.
Tax Advice for British Expats in South Africa
British expats in South Africa should consider exploring the options of transferring their existing pensions abroad and setting up new special pension trusts that are recognised by the UK and tax efficient in South Africa. The best way to do this is to speak with pension and tax specialists.
Tax Guidance for South Africans in South Africa
The new rules mean that South Africans will be taxed more, even on offshore trusts. This tightening of the tax loopholes are designed to hit the wealthy top 10% of South Africans.
South Africans who have worked in the UK can move their existing pensions to a QROPS in South Africa.
Pension Guidance for British Expats in South Africa
You need to take careful consideration before moving a UK pension overseas, particularly if you have an occupational pension scheme as you will lose all the benefits of a UK final salary scheme when transferring your pension overseas. However, if you move to a QROPS, you can take control over both investment and currency planning.
Please contact us. We can provide guidance and Pension Advice for British Expats in South Africa.
South African Budget 2017 Reaction
Velile Mbethe, the acting CEO of the The Financial and Fiscal Commission (FFC), commented yesterday on the South African Budget for 2017/18, saying the tax proposals are heavily reliant on personal income tax across the board, "but more harshly on upper income groups".
VAT increase would be a better 'instrument of growth'.
Velile said macro findings suggest that property taxes and value-added tax (VAT) have the least impact on economic growth. "Raising these taxes are the best instruments for economic growth."
A number of tax experts and analysts have in the aftermath of Gordhan's Budget Speech, said a VAT hike would have been a far better way of revenue collection for government, especially if you have VAT exemptions for necessities and goods that effect lower income groups.
British Expats in South Africa - How to Reduce the New 45% Tax Hit
by
Richard Malpass
https://plus.google.com/u/0/109576387463330539887