Autumn Statement 2016 | Overseas Pensions and QROPS
The Autumn Statement has addressed overseas pension schemes again and has now increased the amount of time a QROPS / ROPS must report to HMRC to 10 years after moving abroad. Previously, this was only five years. This means that any lump sums would be taxed the same way as the UK, limiting the tax-free lump sum from any QROPS to only 25% for the first ten years living abroad.
Your ROPS / QROPS income would be taxed due to your tax-resident status. For example, if you were moving a UK pension to a ROPS in Hong Kong, you would be allowed a 25% tax-free lump sum at age 55 and if you were retiring to Thailand, your pension income would be taxed in Hong Kong due to the Double Taxation Agreement between HK and Thailand, meaning your pension would be taxed at a zero rate in Hong Kong on income. There would be no tax on growth or death and no tax on income in Thailand thanks to the taxation rights been given to HK in the HK-Thailand DTA.
So, QROPS / ROPS are still an attractive option as there is zero tax on death. 100% of your pension funds get passed onto any named beneficiaries you desire and in many circumstances, your income tax can be lowered or eliminated depending on your tax residence at retirement and its relationship with the QROPS jurisdiction where your pension is held.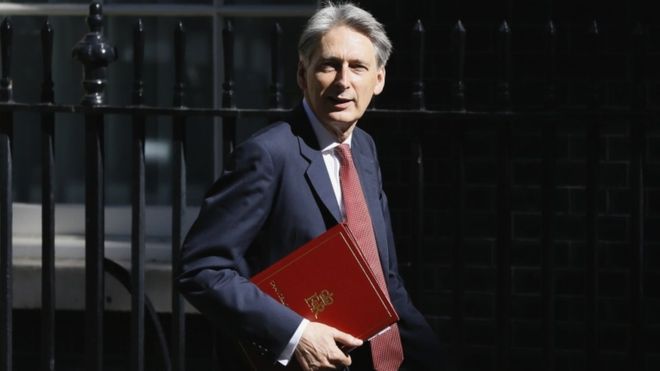 Overseas Pension Changes in the Autumn Statement
QROPS / ROPS 2016: The tax treatment of foreign pensions will be more closely aligned with the UK's domestic pension tax regime by bringing foreign pensions and lump sums fully into tax for UK residents, to the same extent as domestic ones.
Previously, QROPS were only exposed to tax on 90% of pension income for UK residents. This will now be increased to 100%.
The government will also close specialist pension schemes for those employed abroad ("section 615" schemes) to new saving, extend from 5 to 10 years the taxing rights over recently emigrated non-UK residents' foreign lump sum payments from funds that have had UK tax relief, align the tax treatment of funds transferred between registered pension schemes, and update the eligibility criteria for foreign schemes to qualify as overseas pensions schemes for tax purposes.
My Comment on the Autumn Statement
Looks like the UK is following the German model of fiscal discipline to cut deficit. Welfare is to be capped. Spending on NHS and social care frozen. The spending earmarked below doesn't seem anywhere near adequate: just over 30 billion GBP per year, the majority of which is to be invested in housing. It won't be enough to drive the economy which will remain stagnant over the next six years to a decade without further action.
The National Productivity Investment Fund (NPIF) will provide for £23 billion of spending between 2017-18 and 2021-22. This builds on existing plans for major investment over this Parliament, including the biggest affordable house building programme since the 1970's, resurfacing 80% of the strategic road network, the largest investment in the railways since Victorian times and prioritising science & innovation spending. The NPIF will take total spending on housing, economic infrastructure, and R&D to £170 billion over the next 5 years.
Tax on Foreign Companies
Bringing non-resident companies' UK income into the corporation tax regime: the government is considering bringing all non-resident companies receiving taxable income from the UK into the corporation tax regime. At Budget 2017, the government will consult on the case and options for implementing this change. The government wants to deliver equal tax treatment to ensure that all companies are subject to the rules which apply generally for the purposes of corporation tax, including the limitation of corporate interest expense deductibility and loss relief rules.
Tax on Foreign Funds
Offshore funds: UK taxpayers invested in offshore reporting funds pay tax on their share of a fund's reportable income, and Capital Gains Tax (CGT) on any gain on disposal of their shares or units. The government will legislate to ensure that performance fees incurred by such funds, and which are calculated by reference to any increase in the fund's value, are not deductible against reportable income from April 2017 and instead reduce any tax payable on disposal gains. This equalises the tax treatment between onshore and offshore funds.
UK Pension Changes in the Autumn Statement
The amount you are allowed to contribute to your defined contribution scheme in the UK has been dramatically cut
The Money Purchase Annual Allowance has been reduced from £10,000 to £4,000 per year
Cold calling is now banned in the UK in regards to pension schemes
Minimum Wage 2017
The National Living Wage will rise from £7.20 an hour to £7.50 from April 2017, with stronger enforcement to ensure that people are paid the minimum.
The Economy
The next 6 years are going to see stagnant growth in the UK with GDP growth at around 1.4% per year, falling below 1% for 2017.
The employment rate has been rising since 2010 and stood at a record high of 74.5% in the three months to September 2016. The number of people in employment has also reached its highest ever level in recent months, and there are now over 2.7 million more people in work than in Q1 2010. Over the same period, average hours worked have increased 1.6% to 32.1 hours per week, with full-time workers accounting for 72% of employment growth. The unemployment rate was 4.8% in the three months to September 2016, its lowest in 11 years.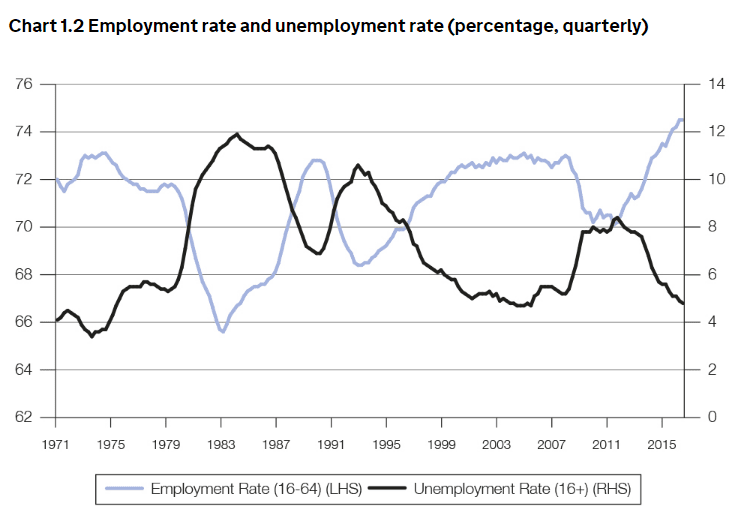 Productivity and wage growth to remain subdued along with most advanced economies.
The Pound: Sterling depreciated 14.2% on a trade-weighted basis between the beginning of June and the end of October. The OBR expects that this will support exports and reduce imports in the short term, with net trade adding 0.3 percentage points to GDP growth in both 2017 and 2018. In the longer term, forecasts for both import and export growth have been revised down by similar amounts, due to the loss of trade that the OBR judges will result from the UK leaving the EU.
Inflation: The OBR forecasts CPI inflation of 2.3% in 2017, 2.5% in 2018, 2.1% in 2019 and 2.0% in 2020 and 2021.
National Productivity Investment Fund
Whilst 100,000 new homes are long overdue, the fiscal spending on infrastructure and R&D won't be anywhere near enough to drive the economy.
Tax
The personal allowance will rise to £11,500 and the higher rate threshold to £45,000 in April 2017.
Personal allowance to increase to 12,500 GBP by 2020.
The higher rate income tax threshold will be increased to £50,000
Corporation tax to be cut to 17% by 2020, the lowest in the G20.
HMRC have decided to leave their stance unchanged with regards to offshore bonds. If you set up an offshore bond, you can remit up to 5% per year in annual income to the UK tax-free.
Personal Portfolio Bonds
As announced at Budget 2016 and following consultation, the government will legislate in Finance Bill 2017 to take a power to amend by regulations the list of assets that life insurance policyholders can invest in without triggering tax anti-avoidance rules. The changes will take effect on Royal Assent of Finance Bill 2017.
ISAs
The new ISA limit will be increase to 20,000 GBP from April 6th, 2017.
The annual subscription limit for Junior ISAs and Child Trust Funds will be uprated in line with the Consumer Prices Index (CPI) to £4,128 per year.
The Opposition
Labour poured scorn on the Autumn Budget for not allowing any extra funds for the NHS or social care.
You can read the full Autumn Statement here.
Autumn Statement 2016 | Overseas Pensions and QROPS
by
Richard Malpass
https://plus.google.com/u/0/109576387463330539887