List of Countries with No Income Tax for British Retirees
Brits often dream of retiring abroad, but as we are ageing in society, how can you make your pension last that much longer? Here, we look into places with low or no income tax on your pension. If you want to avoid income tax on your pension, here are some of the best places for retirement.
For many destinations abroad, your pension would still be taxed in the UK at 20% – 45% on income and up to 45% on death after 75.
However, you can move to a Qualifying Recognised Overseas Pension Scheme (QROPS) and avoid all taxes in the UK. You may even pay zero taxes abroad if you set up the QROPS correctly and the right Double Taxation Agreements are in place.
Best Place in Europe to Retire with No Income Tax
(1) Portugal has blue azure coasts, sandy beaches, picturesque towns and no income tax on pension income for the first ten years you live there. You can move your UK pension to a QROPS and avoid UK taxes as well.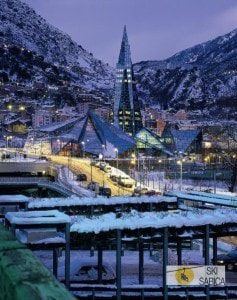 (2) Andorra is between France and Spain and currently has zero income tax. However, this will change to 10% on January 1st, 2016. You can move your UK pension offshore to a QROPS and reduce income tax on your pension to 10%. Pension income is also classified as a return from work and the first 24,000 euro per year is tax exempt. Click here to find out more about taxation in Andorra.
(3) Monaco which is between France and Italy charges no income tax to its wealthy residents. However, your UK pension would be taxed in the UK, unless you move it to a QROPS.
(4) France has an old Double Taxation Agreement with the UK which means no UK IHT on property, assets or wealth, however, your existing UK pension can still be taxed up to 45% on income AND on death. However, move your UK pension to Hong Kong and you will pay no tax on your pension on growth, income or death in France. Click here to read more.
Best Islands and Beaches for Retirement with No Income Tax
If you are looking for beautiful islands with blue seas and white sands, you can retire in the Maldives off the Southern tip of India or Vanuata in Asia Pacific, east of Australia. Most of the Carribean islands have no income tax.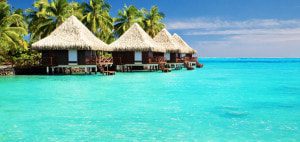 (5) The Maldives is the picture postcard perfect destination. Just off the southern tip of India, everyone speaks English and the water is crystal clear. There is no income tax in the Maldives.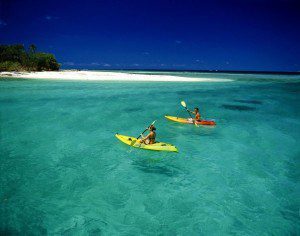 (6) Vanuatu is an Asian-Pacific island east of Australia. There is no income tax in Vanuatu. If you like paddling in a Kayak and be surrounded by Australians, Kiwis and locals, this is the place to you. Having said that, only 100,000 tourists visit each year. Click here to explore Vaunatu volcanoes and sand boarding in Vanuatu.
(7) The Caribbean islands – Anguilla, Bahamas, Bermuda, Cayman Islands, British Virgin Islands, Turks and Caicos all have no income tax. But, you may get taxed on your pension in the UK, so look into a QROPS transfer.
(8) South East Asia – Singapore and Hong Kong have very low taxation generally. They also do not tax foreign pensions. Whilst Singapore and Hong Kong are usually destinations for expat businessmen with high property prices and standards of living, Brunei, Malaysia, the Philippines and Thailand are low cost destinations with many retirees and easier to obtain retirement visas. These countries also don't tax foreign pensions.
(9) Australia – The number one destination for British expats. Australia has everything, beaches, lakes, mountains, harbours, the English language and other Brits. However, you must move your UK pension to a QROPS to avoid UK taxation on it. Australia does not tax pensions in Australia, although the retirement age is 60 rather than 55 and there are some restrictions on how you can move it. Also, there have been a lot of changes recently, where there is only one Australian QROPS left, so many expats are transferring to a QROPS in Malta first.
(10) New Zealand – if you are fan of British type weather, but don't want to pay British taxes, a retirement in New Zealand is popular. With stunning coastlines, lakes, beaches and mountains, many British expats prefer the lifestyle in New Zealand as the culture is more similar to the British culture. New Zealand does not tax its pensions, however, please enquire for advice on where is best to transfer your pension to.
(11) South Africa – South Africa doesn't tax foreign pensions. A country awash with beaches, safaris, cities and almost everyone speaks English.
Click here for a full list of income tax in every country around the world.
(11) The Middle East – Kuwait, Qatar, Dubai (UAE) and Oman have no income tax. Perhaps not the first choice if you are thinking about where to retire unless you are of Arab descent, but there are plenty of business opportunities in the region and some people become teachers in later life.
Low Tax Countries for British Pensioners
In Africa, Lesotho, Mauritius, Zambia and Namibia have the lowest taxes. South Africa doesn't tax foreign pensions.
In Latin America, income tax is often 30% or more, but Belize, Costa Rica, Ecuador, Uruguay and Panama don't tax foreign pension income.
On the other end of the spectrum, Switzerland, Norway, Venezuela, Iceland and Denmark are the countries most likely to drain your pension in no time.
Of course, you can't base your choice of country for retirement soley on income tax; other things need to be considered such as the cost of living, the weather, the language, the food, the facilities, the sport and the culture.
English Speaking Countries with No Income Tax on a Foreign Pension
If you have a foreign pension, you won't get taxed in the following countries and you will have the added benefit of them speaking your language. However, you may have to transfer your pension offshore to a QROPS first, otherwise the UK may tax you on income and on death, despite the new pension flexibilities.
The Maldives, Vanuatu, Anguilla, Bahamas, Bermuda, Cayman Islands, British Virgin Islands, South Africa, Turks and Caicos and the Philippines are all English speaking countries with no tax on foreign pension income. Australia and New Zealand won't tax your pension if you move it to their country.
The Cost of Living Abroad – How to Make Your UK Pension Last Abroad
India, Nepal and Pakistan come top of the list as the cheapest countries for living abroad.
Moldova is the cheapest in Europe. It isn't officially a member of the EU, but it is likely to be over the coming years. Neither is Macedonia, Georgia or Ukraine, so the official cheapest country for living in Europe goes to Kosovo.
However, Bulgaria is now the most popular choice for British expat retirees. Property is very cheap in Bulgaria and many British expats are starting to move there for the cheap lifestyle. You can pick up a house for 30,000 – 50,000 GBP.
If you move your UK pension to a tax neutral British speaking jurisdiction such as Malta, your pension would be paid into your Bulgarian bank account with no tax deducted. Foreign-sourced income in general will not be reportable or subject to personal income tax in Bulgaria provided that it is not related to the working activity performed in Bulgaria.
But, in Europe, I would choose Portugal which has a very low cost of living, although you would probably have to learn some Portugese to get by.
If you want to retire in Africa, a move to the beaches of Tunisia or Mauritius would be a good option for low cost living. Although, after the tourist attacks on the beach, Tunisia is probably not first on the menu of retirement destinations.
Colombia is the cheapest place to retire for expats in South America, but crime here is much higher than in the UK. Morocco or Algeria are the cheapest African destinations.
For cheap beach island life, choose Indonesia or the Philippines in South East Asia. Mexico also has a low cost of living.
Jamaica and Trinidad & Tobago are the cheapest Caribbean options. Anguilla is at the upper end of the price range in the Caribbean. Here are the 32 cheapest islands in the Caribbean. Curaçao and Cuba are also low cost islands in the Caribbean.
Fiji has some of the best diving in the world and is fairly low cost. It is made up of 332 islands and they speak English, so you could find your own slice of heaven. Watch out if you drink too much Kava though, a narcotic sedative drink made in Polynesia from the crushed roots of a plant of the pepper family…. Bula!
Click here to find out more about the cost of living by country" around the world.
Moving to North America as a British Expat
If you have designs on moving to the US, the pension position is a bit more murky. There are some QROPS which are listed on HMRC's QROPS list in the US which cause a lot of confusion. Whilst these QROPS tick all the right boxes for HMRC, the Inland Revenue Service (IRS) who are the US tax authority won't recognize them and hence you can't make the transfer.
The New York State Society of Certified Public Accountants (NYSSCPA) wrote a letter in May 2012 for the Internal Revenue Service (IRS) to provide additional guidance on the taxation of foreign retirement and pension plans due to consumer confusion over the filing procedures required by such programs.
So far, there has yet to be any changes. This is further complicated by the introduction of FATCA (the Foreign Account Tax Compliance Act) and the HIRE act (Hiring Incentives to Restore Employment) in 2010.
The NYSSCPA is asking the IRS to put forth legislation that would provide for the deferral of tax on foreign retirement plans which had compulsory participation required by the foreign country.
The reporting requirements are crucial in the United States. At the moment, the best option may be to leave your pension in the UK. As a US citizen, and resident, you can claim exemption from UK income tax and only pay US tax on the pension payments. This saves the hassle of claiming for the UK tax on your US tax returns. US income tax is lower than the UK, but you would also have to pay US income tax on your lump sum. Ordinarily in the UK, you can access 25% of your pension tax-free.
There is a remedy though. You can transfer your UK pension to Malta under a very specific trust written with US rules in mind. Malta has a Double Taxation Agreement with the USA which means your pension is taxed in the USA rather than Malta. You can then take a 30% tax-free lump sum. There is no tax on growth and you just pay US income tax at retirement. If you are moving to America, I would take the 25% lump sum before moving and then send the rest of your pension pot to Malta. But, this is only a solution if you have a large pension fund of at least a 200,000 GBP pension pot as the fees are higher than a UK SIPP.
For smaller pots, it may be beneficial to look into moving your pension in the UK to a Self-Invested Personal Pension (SIPP).
qrops portugal, qrops andorra, qrops monaco, qrops the maldives, qrops vanuatu, qrops caribbean, qrops anguilla, qrops bahamas, qrops bermuda, qrops cayman islands, qrops bvi, qrops turks and caicos, qrops brunei
24 Countries Abroad Where Brits Can Avoid Income Tax
by
Richard Malpass
https://plus.google.com/u/0/109576387463330539887